A half-day round table conference was organised by Vasudha Foundation on "Decentralized Energy Solutions" for meeting energy and electrification targets in India.
The conference was preceded with the 'Launch' of a report authored by Srinivas Krishnaswamy, Director, Vasudha Foundation which is titled as, "Shifting of Goal Posts – A report card of Rural Electrification in India & a Recipe for Accelerated Progress".
Vasudha Foundation was set up in early 2010 with an aim to promote environment friendly, socially just and sustainable models of development by focusing on alternative technologies and life style solutions. The foundation is currently involved in setting up a decentralized energy model in a tribal village in Jharkhand with support from Christian Aid, UK and in association with Judav, a local organisation based out of Jharkhand, India.
As part of the project, the foundation has come out with its first report titled, "Shifting of Goal Posts", which makes a detailed analysis of the current rural electrification policies and framework, has analyzed the achievement of rural electrification, both in terms of village electrification as well as household electrification, the quality of supply and has also looked at some of the decentralized energy models which exist in the country. In the light of the analysis, it makes a strong case for decentralized energy systems particularly, for meeting the energy needs of rural population and tries to dispel some of the myths association with decentralized renewable energy solutions.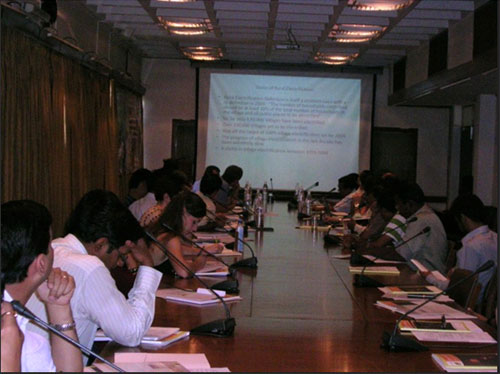 The main premise of this round table conference was to hear the views of various stake holders involved or connected directly or indirectly with rural electrification and its strong linkages to rural development, poverty alleviation and livelihood enhancement in the back drop of the findings of the report with the view to create a platform of interested people to further push for a paradigm shift in current energy policies, starting off with rural electrification.