Press Meet: India's Climate Change Perspectives and Priorities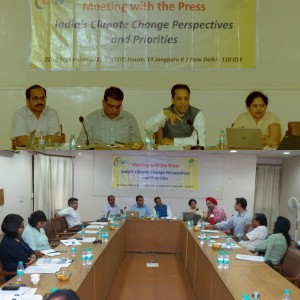 Vasudha Foundation in collaboration with Council on Energy, Environment and Water (CEEW) on 22nd September 2015 convened a meeting with the press in New Delhi to decode the current process under the UNFCCC for countries to propose their Intended Nationally Determined Contributions (INDC). 
Explaining the key objectives, Dr. Arunabha Ghosh (CEO, Council on Energy, Environment and Water) gave a brief on 'New Options to Shape India's Narrative in Climate Negotiations: Technology Partnerships, Differentiation, and Risk Assessments'. Following Dr. Ghosh's insights on India's role in the global climate change discourse, Mr. Srinivas Krishnaswamy (CEO, Vasudha Foundation) talked on the issue of energy access by giving a very interesting presentation on 'Delivering a Decent Standard of Living without costing Earth'. The presentation also gave a comprehensive understanding on co-relation between energy access and sustainable development goals. The press meet also discussed the impacts of climate change on forests and it was explained in detail by Mrs. Sudha Padmanabha (Senior CDM Specialist, Fair Climate Network). She gave an in-depth presentation on 'Impacts of Climate Change on Forest Ecosystems' where she enlisted some win-win adaptation strategies for forest ecosystems in India. Lastly, Mr. Emani Kumar (ICLEI Deputy Secretary General and Regional Director-ICLEI South Asia) gave his views and showed how ICLEI has been helping Indian cities to adapt sustainable development practices in their city plans. He presented on the topic 'Solutions and Potential for Climate Action in Indian Cities'.
CEEW – New Options to Shape India's Narrative in Climate Negotiations – Dr. Arnab Ghosh
VF – Delivering a decent standard of living without costing the earth – Mr. Srinivas Krishnaswamy
FCN – Impacts of climate change on Ecosystems – Mrs. Sudha Padmanabha
ICLEI – Climate Action and potential in Indian Cities – Mr. Emani Kumar