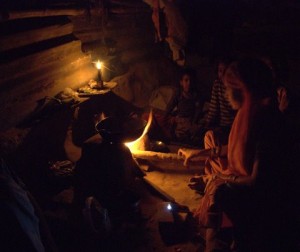 Dear Friends,
You don't know us. You may not even have heard of us. We speak a different language but we are sure you will understand us. We can't write; we are illiterate. We are poor. We live in far off places. There's no light in our village. We use firewood to cook.
We have been told that this is affecting your future.
We hear that there is a big assembly in Paris where our future is being discussed. All world leaders are deciding the fate of the planet. We hope they will keep in mind our present predicament while deciding about our future.
We live in different parts of our vast country and are trying to reach out to you from our remote places.
We live in Arunachal Pradesh, the north-eastern part of India. Our government promised us more than twenty years ago that we would soon get electricity. After all more than half of the hydro electricity potential of India is in our state. After more than two decades of promises and efforts the projects are yet to come up. We are told by some educated outsiders who are opposing them that such projects are not good for the local environment and mountain ecology. We believe them and continue to live without electricity as our forefathers did more than a century ago.
We are forest dwellers of Jharkhand. Our children spend time with cattle. They wander with them throughout the day in search of food. There is no school or road in our village. They say there are coal deposits here. Many years ago we heard that soon there will be coal mining and we would get jobs. That coal will be used for generating electricity. We thought that finally we would see the light that the village had never seen. Those plans have now been stopped because coal mining will affect forests. We have also been told that burning this coal will harm you. Now we don't know what our government will do. Please let us know if our leaders have promised you that they will convince us to live without electricity. We are sure that you will not accept such an arrangement.
We are tribals from Rajasthan, the fascinating land of forts and deserts. Many of you might have visited our state. We are told that every second foreign tourist to India comes to our state to see its history and heritage. We live near the sand dunes where you spend your holidays. After taking you for camel rides and giving you a glimpse of our culture, music and dance we go back to our villages. Our women walk miles to fetch drinking water. The nearest hospital is half a day's walk. Our life stands still after sunset. We have waited three decades for a nuclear plant that was to be set up near our village. We have no other hydro or thermal source, so nuclear was our only hope. Now that project is scrapped. Our government has not been able to tie up technology or fuel for the nuclear plant. Also some tourists told us that this was unsafe. So now we are safe but sad because we don't know whether we will ever get electricity.
The other day one foreign tourist told us that wind and sun can produce electricity. Our government now has a plan to instal solar power plant in our village and a wind power unit in the neighboring village. We are happy. But they say that this electricity is costly. They also said that they can give us electricity only for a few hours when the sun is shining or the wind is blowing. We are excited but anxious because we don't know if we will be able to pay for that electricity. There is now more uncertainty in our lives. We were used to managing our lives somehow for centuries.
Is it true that you don't have any of these problems? Is it true that in order to provide you electricity your government used all that it could, coal, gas, hydro, nuclear? Do you have any problem with us getting the same convenience? How can it be? We live on the same planet. We don't want to light up our homes in a way that will harm you. With all the technology and capital at your command why don't you tell us new and affordable ways by which we could get electricity without using coal, nuclear or hydro? We will certainly plead with our government to do things differently after getting some practical advice from you.
Our government tells us that in your country one person consumes more than ten times the electricity than one person does in our country. We don't understand these comparisons because we consume no electricity at all. We are also told that if all of us lived in your country your consumption of electricity would still be more than what an ordinary person requires. Is this true?
We hope you understand that we are ordinary persons, with ordinary needs. We are sure that you can understand us even if your governments don't. We have a right to grow, we have a right to fulfill our needs. We do not want to damage your future even though your ancestors might have inadvertently damaged yours and ours. We know that our futures are linked and that you as human beings do not want us continue to live with our wants and indigence.
We hope to hear from you as our government has promised to provide us electricity in the next few years. You can write to us at the following Signed,
Common man from India