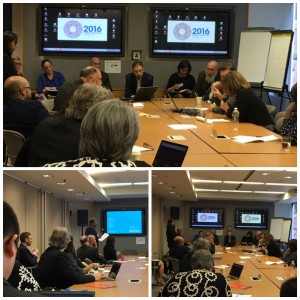 Vasudha Foundation organised a panel discussion on "Fulfilling the Paris Agreement: Pathways to Accelerate Clean Energy Deployment in Developing Countries", at the Civil Society Policy Forum at the World Bank Spring Meetings, on Friday, 15th April 2016.
The interactive discussion moderated by Mr. Srinivas Krishnaswamy, Chief Executive Officer, Vasudha Foundation, aimed to understand some of the actions already initiated by various stakeholders in accelerating clean energy deployment in fast developing economies such as India and seek stakeholder's views and perceptions on possible actions to further accelerate the deployment process in conformity with the long term goal of the Paris Agreement.
Ms. Julia Bucknall, Practice Manager, World Bank Group, opened the discussion with her interesting views on pathways for countries to scale up renewable energy, energy efficiency. She also threw light on how the World Bank will align its future projects in line with the Paris Agreement.
Mr. Ethan Zindler, Head of Policy Analysis, Bloomberg New Energy Finance highlighted some key take a ways on energy policy developments impacting renewables, bio-fuels and energy efficiency with his presentation "Clean Energy in Emerging markets". Emphasising on large potential for growth in the clean energy market in the developing nations.
Ms. Karen Orenstein, Friends of the Earth, USA added the perspective on Climate Finance with a focus on the Green Climate Fund with her brief presentation titled "Climate Finance + Green Climate Fund". She highlighted some of the grey areas for climate financing in the Green Climate fund arena.
Mr. Ilmi Granoff, Senior Research Associate at the Overseas Development Institute shared insights based on his latest research publication with The New Climate Economy on Scaling up Clean Energy Investments, with his presentation titled "The Global Commission on the Economy and Climate".
Mr. Scot Sklar, President, The Stella Group wrapped the session with his engaging presentation on " Powering Community Infrastructure Using High Value Energy Efficiency, Energy Storage and On-Site Renewable Energy". He gave examples of the Stella Group's diverse clean energy initiatives powering local communities across the globe.
View Presentation by Ms Karen Orenstein 
View Presentation by Mr. Ilmi Granoff
View Presentation by Mr. Scot Sklar 
Srinivas Krishnaswamy, CEO, Vasudha Foundation, reports on project activities for the CDKN supported project Finding the Finance: Climate Compatible development in Asian cities. 
With various development challenges that many Indian cities face, one emerging challenge is to ensure that our cities are "climate resilient" without sacrificing the aspirations of the average Indian to maintain the right to a "decent standard living".
Keeping this in mind, Vasudha Foundation in partnership with GermanWatch and with support from the Climate and Development Knowledge Network (CDKN) has embarked on a project that aims to help two Indian cities develop  climate resilient plans.  These plans will not only make the cities climate resilient, but also meet the aspiration of their citizens and most importantly, raise the resources required to implement the plans in earnest.
The two cities identified for this project are Puri and Gurgaon, both with diverse culture, heritage, topography, economic profile and priorities. Gurgaon, a territory of the National Capital Region, aspires to be the "new age city" – being home to over a few dozen Fortune 500 companies and with close proximity to India's largest international airport, the Indira Gandhi International Airport, New Delhi.  It is also part of a "once" very pristine green zone, the "Aravalli Range".  Puri, an area that has historically seen sea ravages such as cyclones and flooding, boasts an agrarian, fisheries and tourism driven economy, and is home to a large temple, attracting millions of Indian tourists, both pilgrims and beach lovers.
What has been common in both the cities is the enthusiasm of various stakeholders, be it the representatives from the Government, residents,  industries or the corporate sector to transform their districts into climate resilient cities.
Being very diverse districts, the problems facing them from a climate perspective, barring a few, are also very different,  the priorities different, and so the solutions, albeit with some common elements.
While the priorities for Puri are more adaptation and disaster management in nature, Gurgaon presents a typical case of implementing stringent mitigation measures.  Notwithstanding what measures are taken in each city, the end result would be the same –  a climate resilient Gurgaon and a climate resilient Puri.
Various rounds of interesting discussions, dialogues and workshop with stakeholders have resulted in some plans being developed to delve deep into the issue and come up with action plans that prioritise the programme and activities required in each of the districts for climate proof development. These discussions also explored various possible ways to raise the resources to meet the financial and other requirements needed to implement those priortised programmes.
A strong commonality that emerged amongst the participants, ranging from the "common man" to the "ruling class" both with differences in living, was on domestic versus international finance.  Participants in both cities agreed that with holistic planning and integrated solutions, a great amount of resources could be made available domestically to achieve their respective climate resilient plans without seeking out "foreign funds".  They were however quick to point out that foreign funds could also go a long way to add  "icing on the cake for various plans and programmes", recognizing the much needed value addition of international finance.
What Makes the Paris Agreement, Historical?
 by Srinivas Krishnaswamy, Chief Executive Officer, Vasudha Foundation
 For many of us, who have been following the Global Climate Negotiations, tend to think that the Paris Agreement is indeed a historical movement for the climate negotiations.  This perception largely stems from the fact that the agreement has a broad consensus from all countries, globally on various elements of the agreement that can put the world on definitely  a "Under 2 deg C temperature rise pathway, but also a step forward in striving towards keeping temperature rise to 1.5 deg C, above pre-industrial levels.
To unpack this further, lets look at the various elements of the agreement that gives us the perception that it is indeed historic!
Firstly, for the very first time, countries have unanimously agreed that while holding temperature rise to under 2 deg C, countries to pursue efforts to limit the temperature increase to 1.5 °C above pre-industrial levels, recognizing that this would significantly reduce the risks and impacts of climate change.  Keeping temperature rise to 1.5 Deg C has been a long standing demand from a number of vulnerable countries for some time now and the Paris agreement has finally seen this fructify.
Further, for the very first time in the climate negotiations and in the light of the above, countries have agreed to a quantitative long term goal of aiming to reach global peaking of greenhouse gas emissions as soon as possible, recognizing that peaking will take longer for developing country Parties, and to undertake rapid reductions thereafter in accordance with best available science, so as to achieve a balance between anthropogenic emissions by sources and removals by sinks of greenhouse gases in the second half of this century, on the basis of equity, and in the context of sustainable development and efforts to eradicate poverty.
In the light of the above and again for the first time in the history of climate negotiations, countries have agreed to put in place a mechanism that will ensure a sustainable and regular process that will not only monitor but also ensure increased action by all countries, in order to realize the stated long term temperature rise goal. This will in the form of a global stocktake of implementation and collective progress every five years and importantly submission of updated nationally determined contributions from each country every five years, which would be informed by the results of the "Global Stocktake".  The first global stocktake will happen in 2018, where parties will reconvene to take stock of their collective efforts.  This convening will be a facilitative dialogue.  Based on these facilitative dialogues, countries will either submit new Nationally Determined Contributions (INDCs) for the period of 2025/2030 or will update their INDCS as required.
Yet another highlight of the agreement, related to emission reduction ambition is  the requirement of all countries to communicate to the UNFCCC secretariat by 2020, a mid-century/long term low greenhouse gas development strategies.
While mitigation ambition is indeed a very important component of any agreement to address climate change, finance and technology to enable countries to embark on a low carbon trajectories and adaptation requirements of developing countries are equally important and critical for a success of any arrangements to address climate change.
The Paris agreement has ensured that while determining what the Global Stocktake will assess in terms of mitigation requirements of countries every five years, there is also a process for increasing adaptation action and the provision of climate finance to meet the adaptation and mitigation requirements of countries.  The agreement provides for country parties to communicate their adaptation priorities, needs and efforts in a  periodically updated cycle and further are required to communicate climate financing they have either provided or receive every two years and importantly to indicate the levels of support they expect to provide or receive in future, in line with their plans.
While, many would argue that the financing section of the agreement is weak, the decision text, does have language that reiterates the fact that developed countries will have to provide USD 100 Billion, every year up to 2025, starting from 2020 for developing countries to meet their adaptation and mitigation requirements.  It further, stipulates that the USD 100 billion will be the floor and efforts will be made to enhance this requirement.  Hopefully, the global stocktake will ensure that an honest assessment of the financial requirements of countries will be made available every five years, with countries, both developed and countries that have the capacity, contribute to the financing pool.
The success of any agreement hinges rather deeply on transparency and accountability of actions taken by countries not only on meeting their mitigation actions, but importantly on ensuring that adequate and appropriate finance and technology support is provided to developing countries to meet their adaptation and mitigation goals.   The Paris agreement has fairly strong clauses that could deliver a transparent accountability framework by ensuring universal and harmonized report and verification requirements, while maintaining the diversity of actions and capacities of developed and developing countries.  It also has legally binding rules and process that is applicable to all countries and makes all of them accountable.
Having said all of the above, there are weak links to the Paris agreement, particularly on the issue of Loss and Damage, where sections related to compensation has been eliminated.  However, given that the climate negotiations have been fairly tumultuous in nature, the fact that countries have agreed to some of the hitherto tricky issues, in itself, makes this agreement historic.
 The above views are my personal views.
Thanks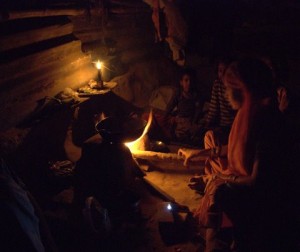 Dear Friends,
You don't know us. You may not even have heard of us. We speak a different language but we are sure you will understand us. We can't write; we are illiterate. We are poor. We live in far off places. There's no light in our village. We use firewood to cook.
We have been told that this is affecting your future.
We hear that there is a big assembly in Paris where our future is being discussed. All world leaders are deciding the fate of the planet. We hope they will keep in mind our present predicament while deciding about our future.
We live in different parts of our vast country and are trying to reach out to you from our remote places.
We live in Arunachal Pradesh, the north-eastern part of India. Our government promised us more than twenty years ago that we would soon get electricity. After all more than half of the hydro electricity potential of India is in our state. After more than two decades of promises and efforts the projects are yet to come up. We are told by some educated outsiders who are opposing them that such projects are not good for the local environment and mountain ecology. We believe them and continue to live without electricity as our forefathers did more than a century ago.
We are forest dwellers of Jharkhand. Our children spend time with cattle. They wander with them throughout the day in search of food. There is no school or road in our village. They say there are coal deposits here. Many years ago we heard that soon there will be coal mining and we would get jobs. That coal will be used for generating electricity. We thought that finally we would see the light that the village had never seen. Those plans have now been stopped because coal mining will affect forests. We have also been told that burning this coal will harm you. Now we don't know what our government will do. Please let us know if our leaders have promised you that they will convince us to live without electricity. We are sure that you will not accept such an arrangement.
We are tribals from Rajasthan, the fascinating land of forts and deserts. Many of you might have visited our state. We are told that every second foreign tourist to India comes to our state to see its history and heritage. We live near the sand dunes where you spend your holidays. After taking you for camel rides and giving you a glimpse of our culture, music and dance we go back to our villages. Our women walk miles to fetch drinking water. The nearest hospital is half a day's walk. Our life stands still after sunset. We have waited three decades for a nuclear plant that was to be set up near our village. We have no other hydro or thermal source, so nuclear was our only hope. Now that project is scrapped. Our government has not been able to tie up technology or fuel for the nuclear plant. Also some tourists told us that this was unsafe. So now we are safe but sad because we don't know whether we will ever get electricity.
The other day one foreign tourist told us that wind and sun can produce electricity. Our government now has a plan to instal solar power plant in our village and a wind power unit in the neighboring village. We are happy. But they say that this electricity is costly. They also said that they can give us electricity only for a few hours when the sun is shining or the wind is blowing. We are excited but anxious because we don't know if we will be able to pay for that electricity. There is now more uncertainty in our lives. We were used to managing our lives somehow for centuries.
Is it true that you don't have any of these problems? Is it true that in order to provide you electricity your government used all that it could, coal, gas, hydro, nuclear? Do you have any problem with us getting the same convenience? How can it be? We live on the same planet. We don't want to light up our homes in a way that will harm you. With all the technology and capital at your command why don't you tell us new and affordable ways by which we could get electricity without using coal, nuclear or hydro? We will certainly plead with our government to do things differently after getting some practical advice from you.
Our government tells us that in your country one person consumes more than ten times the electricity than one person does in our country. We don't understand these comparisons because we consume no electricity at all. We are also told that if all of us lived in your country your consumption of electricity would still be more than what an ordinary person requires. Is this true?
We hope you understand that we are ordinary persons, with ordinary needs. We are sure that you can understand us even if your governments don't. We have a right to grow, we have a right to fulfill our needs. We do not want to damage your future even though your ancestors might have inadvertently damaged yours and ours. We know that our futures are linked and that you as human beings do not want us continue to live with our wants and indigence.
We hope to hear from you as our government has promised to provide us electricity in the next few years. You can write to us at the following Signed,
Common man from India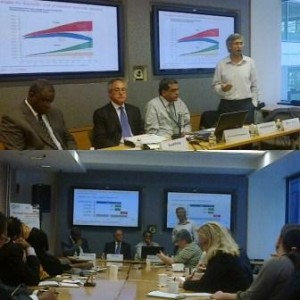 Vasudha Foundation organized a panel discussion on the theme of "Basket of Options for Scaling up Renewable Energy in Fast Developing Economies such as India", at the Civil Society Policy Forum at the side lines of the World Bank Spring Meetings, on Friday, 17thApril 2015.
The panel discussion had a interesting line up of discussants. Mr. Srinivas Krishnaswamy, Chief Executive Officer, Vasudha Foundation, made a brief presentation on "Development Deficit" in a number of developing economies, by giving example of the ground realities in India. He highlighted the opportunities for countries to opt for low carbon pathways and making the case that low carbon pathways could potentially ensure inclusive growth and poverty alleviation as against the traditional and hitherto followed development policy and pathways.
Vasudha Foundation released its new report, titled "Electricity for all in India- Why coal is not always king"  on the 8th of  October 2014, at the Civil Society Policy Forum of the World Bank's Annual Meetings 2014.  The panel discussion at the release of the report had Dr. Anita George, Senior Director, Energy and Extractives Unit of the World Bank, Dr. Vijay Iyer, Senior Advisor, South Asia Infrastructure Division, World Bank, Dr. Lawrence Jones, Vice President, Utility Innovations and Infrastructure Resilience, Alstom Grid and Srinivas Krishnaswamy, CEO of Vasudha Foundation.  
Please click here for accessing the report
by Sunita Dubey (Head of Programmes, Vasudha Foundation)
The coveted trip by the Chinese Premier Xi Ping has put a lot attention on development paths of India and China, and the lessons they can learn from each other. The two countries have signed 12 agreements in Delhi, one of which will see China investing $20 billion in India's infrastructure over five years. Power minister Piyush Goyal said that $100 billion of investments are likely to flow into India's renewable sector in the next four years.
While the news of Chinese investment in Indian renewable sector is a welcome move, but still both countries rely heavily on coal based power plants, and though Prime Minister Modi being a fan of solar energy still has plans for investing in coal mines and coal power plants to realize his promise of providing 24×7 energy access and electricity supply to every household in India. Even the ambitious development agenda of PM Modi is heavily reliant on the power supply (which is mainly based on coal power plants) to the industrial sector.
Development and Environmental Protection: Modi's dream or a reality? 
While PM Modi has firmly stated it many times that development can go hand in hand with the environmental protection, while that might be true, but it cannot be achieved by still relying and invested in coal and coal power plants. Development at the cost of environment is coming to bite China, where polluted air and water has crossed every threshold and limit.
The true cost of coal includes its toll on social structures and the environment. The mining, processing, transportation and burning of coal, and the disposal of coal waste harm the poor and indigenous communities where they take place. Threats to these communities from coal mining include population displacement, polluted or depleted water sources and the loss of livelihoods through deforestation. Coal power plants also deplete and pollute water sources, frequently being sited in areas of water stress despite their huge appetite for water. Power plants also have more widespread health implications through their toxic particulate emissions, and contribute to climate change through the greenhouse gases they emit.
Coal: A Domestic Resource? 
While both countries take pride in coal as a "national resource", the story has changed now with the import of coal increasing with every passing year. The acute supply shortage, coupled with the fact that domestic coal is generally of low quality, has led a number of power plants to resort to using imported coal. According to a Reserve Bank of India 2013 report, the coal imports bill adds a burden of US$18 billion every year to the country's economy. What is more, the new generation of coal-fired Ultra Mega Power Plants (UMPPs) planned by the Indian government will only be able to use high grade coal, and so will be permanently dependent on imports.
Can Coal Fulfill Modi's Dream of "Energy Access for all Indians?"
According to the International Energy Agency, 147 million Indians will remain without access to electricity even in 2030, if business as usual policies are followed. The pattern of household electrification rates across the country reveals a further injustice, with the coal rich states often the ones still in darkness and with the highest levels of poverty.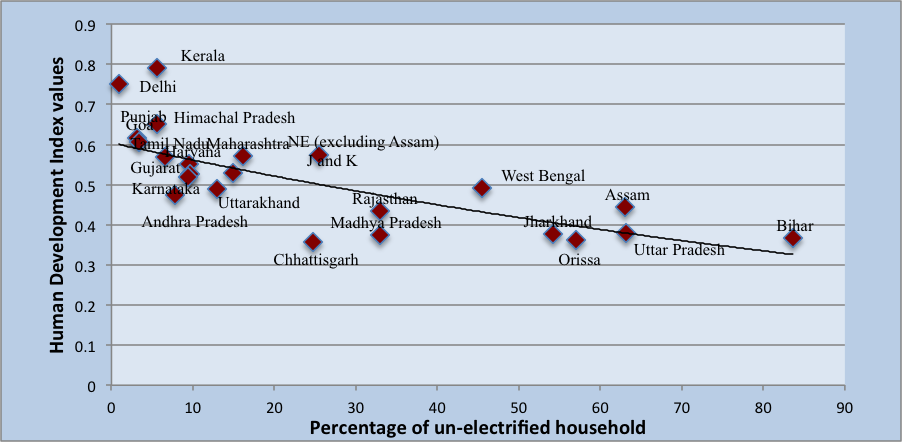 While the intention of Modi's government to make energy access one of their top priority is worth appreciating, as Human Development Index (HDI) is highly co-related to the electrified households. The above graph shows that the Indian states with low electrified household have low HDI and vice versa. This graph signifies that by just electrifying a household (A desirable component would be clean and renewable energy access) can make a difference in an overall health, education and income of a family.
Hence, the government's desire to focus on electrification and energy access is a step in the right direction, but their reliance on coal to achieve this is misguided. The graph below shows that the states with higher level of installed coal capacity have very low state per capita income. This goes against the political argument that using coal can bring social and economic prosperity.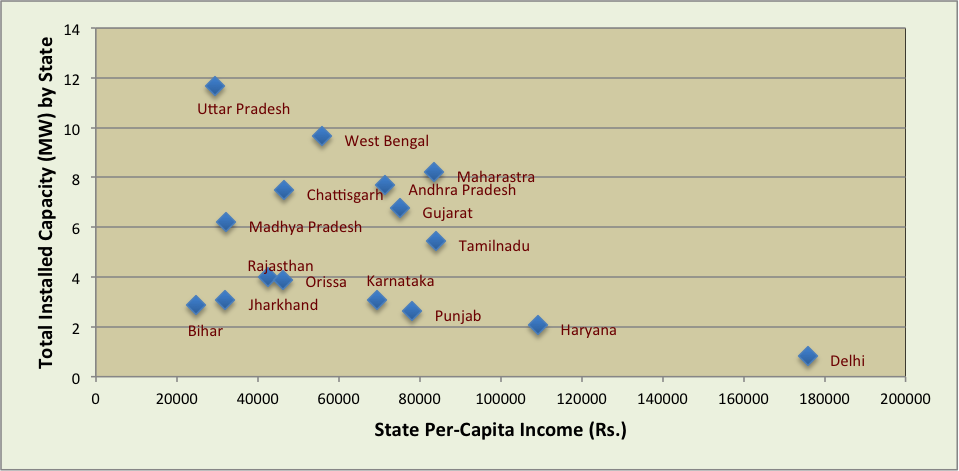 Converting Rhetoric to Action
While the Modi government is making the right kind of noise when it comes to renewable energy, environmental protection and climate. The renaming of the environment ministry to include "climate change" is an acknowledgement of the new government's commitment to addressing this issue. However, there action oriented approach still needs to be seen over their governing years.
On an average, every GW of additional renewable energy capacity reduces carbon dioxide (CO2) emissions by 3.3 million tonnes a year. If CO2 reductions are correlated with particulate emissions reductions, each GW of renewable energy capacity saves around 1,100 lives through reduced mortality. A further benefit of renewable energy is an increase in long-term energy security through the diversification of supply, reduction of import dependency, and mitigation of fuel price volatility. The promotion of renewable energy can also be an important tool for regional development within India, given that many of the states with the greatest renewable energy potential also lag in economic development.
Just like china, India also needs to deal with several implications of climate change on its soil, while playing a constructive role in the international climate change negotiations. A rapid surge in energy demand and the scourge of pollution in both countries, as well as the need for their leadership to play an effective role in building a consensus on the U.N. climate treaty in 2015 at the international level, places them in a position in which cooperation is indeed the best way forward.

A half-day round table conference was organised by Vasudha Foundation on "Decentralized Energy Solutions" for meeting energy and electrification targets in India.