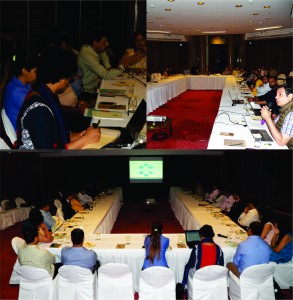 Vasudha Foundation on behalf of GHG Platform India organised a roundtable consultation in India Habitat Centre, New Delhi on 6th April'17. The meeting was intended to get inputs and recommendations from experts in the field of Agriculture, Livestock, Forestry, Land-use and Land-use change, Energy, Industry, and the Waste sector on methodology approaches and overcoming data challenges while, expanding the time series of GHG estimates from 2005 to 2013 at both the national and state level.
Vasudha Foundation with support from Oxfam India organized a Multi stakeholder dialogue and strategy meeting on 'Engaging with the New Development Bank' on Wednesday, March 29th, 2017, at Vivanta by Taj, New Delhi.  The roundtable dialogue commenced with a welcome note from Mr. Srinivas Krishnaswamy, CEO, Vasudha Foundation and Ms. Ranu Bhogal, Director – Policy, Research and Campaigns, Oxfam India. The session commenced by setting the context, purpose and history of the Bank by Mr. Paulo Nogueira, Vice President, New Development Bank. He stated that the bank was not created to compete or confront but to complement the existing efforts of BRICS.
Vasudha Foundation organized a Roundtable consultation on 10th February, 2017 at Taj Vivanta Hotel, New Delhi to discuss the "Potential Role of Civil Society in Strengthening India's Preparedness to Address Climate Change and meet its obligation under the Paris Agreement".
The aim of the meeting was to discuss the role, opportunities, and challenges facing civil society around the Paris Agreement and its implications for India.
The discussion also focused on the cross-sectoral linkages that needs to be strengthened to understand the broad implications of adaptation initiatives and mitigation actions by various actors at all levels.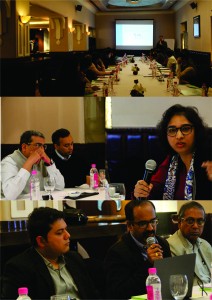 Vasudha Foundation organised a  round table discussion on 16th December 2016 at Vasudha Foundation Meeting Hall, to discuss the final outcomes of the study report done by Foundation- Policy framework and Preparedness for Implementing Measures to Effectively Deal with Climate Change– An Analysis of four states in India- Andhra Pradesh, Goa, Karnataka and Tamil Nadu.
The meeting comprised of a brief presentation of the Final report, followed by discussion, comments and suggestions by the experts invited. The experts appreciated the report and felt that such work will surely help influence policy makers. The overall comment was that the report was fairly comprehensive.
Read the minutes of the round table discussion here.
Two workshops were organised by under the "Sustainable and Climate Resilient Cities (Gurgaon/Puri) – Resources and Actions" project in the months October and November, 2016. It is a joint project of GermanWatch, Vasudha Foundation, WEFT Research LLP, Gurgaon and with Support from Climate and Development Knowledge Network.
The overall objective of the project is to assess the finance needs for Climate Compatible Development (CCD) in second-tier cities in key developing economies, including India.
For this purpose, two focus cities identified in India are Gurgaon, Haryana and National Capital Region and, Puri in Odisha.
Download the report of the workshop conducted in Gurgaon
Download the report of the workshop conducted in Puri
"Sustainable and Climate Resilient Cities (Gurgaon/Puri) – Resources and Actions" is a project supported by the Climate and Development Knowledge Network (CDKN). As a part of which, Vasudha Foundation and German Watch organized workshops in Gurgaon and Puri, in collaboration with Water Energy Food Transitions (WEFT) Reserach  and Practical Action, respectively.
The overall objective of the project is to assess the finance needs for Climate Compatible Development (CCD) in second-tier cities in key developing economies, including India.
For this purpose, two focus cities identified in India are Gurgaon, Haryana and National Capital Region and, Puri in Odisha.
Read minutes of the workshops at Gurgaon and Puri here,
Minutes of the Workshop – Gurgaon
Minutes of the Workshop – Puri 
Presentation by Lisa Junghans, German Watch 
Presentation by Martin Welp, Eberswalde University of Sustainable Development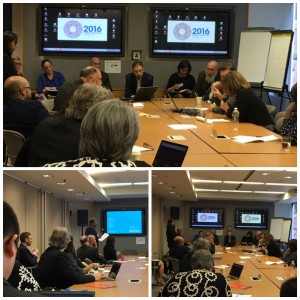 Vasudha Foundation organised a panel discussion on "Fulfilling the Paris Agreement: Pathways to Accelerate Clean Energy Deployment in Developing Countries", at the Civil Society Policy Forum at the World Bank Spring Meetings, on Friday, 15th April 2016.
The interactive discussion moderated by Mr. Srinivas Krishnaswamy, Chief Executive Officer, Vasudha Foundation, aimed to understand some of the actions already initiated by various stakeholders in accelerating clean energy deployment in fast developing economies such as India and seek stakeholder's views and perceptions on possible actions to further accelerate the deployment process in conformity with the long term goal of the Paris Agreement.
Ms. Julia Bucknall, Practice Manager, World Bank Group, opened the discussion with her interesting views on pathways for countries to scale up renewable energy, energy efficiency. She also threw light on how the World Bank will align its future projects in line with the Paris Agreement.
Mr. Ethan Zindler, Head of Policy Analysis, Bloomberg New Energy Finance highlighted some key take a ways on energy policy developments impacting renewables, bio-fuels and energy efficiency with his presentation "Clean Energy in Emerging markets". Emphasising on large potential for growth in the clean energy market in the developing nations.
Ms. Karen Orenstein, Friends of the Earth, USA added the perspective on Climate Finance with a focus on the Green Climate Fund with her brief presentation titled "Climate Finance + Green Climate Fund". She highlighted some of the grey areas for climate financing in the Green Climate fund arena.
Mr. Ilmi Granoff, Senior Research Associate at the Overseas Development Institute shared insights based on his latest research publication with The New Climate Economy on Scaling up Clean Energy Investments, with his presentation titled "The Global Commission on the Economy and Climate".
Mr. Scot Sklar, President, The Stella Group wrapped the session with his engaging presentation on " Powering Community Infrastructure Using High Value Energy Efficiency, Energy Storage and On-Site Renewable Energy". He gave examples of the Stella Group's diverse clean energy initiatives powering local communities across the globe.
View Presentation by Ms Karen Orenstein 
View Presentation by Mr. Ilmi Granoff
View Presentation by Mr. Scot Sklar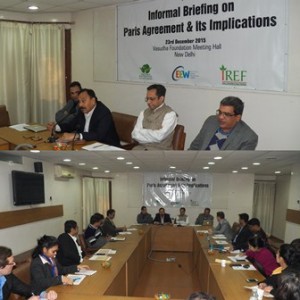 Vasudha Foundation in collaboration with Council on Energy, Environment & Water (CEEW) and Indian Renewable Energy Federation (IREF) organised an informal briefing meet on Paris Agreement and its implications in India on 23rd December 2015 in New Delhi.
The meeting focused on unpacking the Paris Agreement  and analysing the key features of the agreement, followed by discussions on the implication of the agreement on Indian industry, the renewable energy and energy efficiency markets. The meeting also emphasized on key sectors that are most vulnerable to climate change such as agriculture, mountain ecosystems, coastal areas, etc.
Full report of the meeting will be uploaded soon.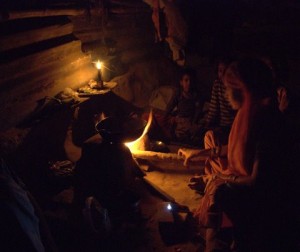 Dear Friends,
You don't know us. You may not even have heard of us. We speak a different language but we are sure you will understand us. We can't write; we are illiterate. We are poor. We live in far off places. There's no light in our village. We use firewood to cook.
We have been told that this is affecting your future.
We hear that there is a big assembly in Paris where our future is being discussed. All world leaders are deciding the fate of the planet. We hope they will keep in mind our present predicament while deciding about our future.
We live in different parts of our vast country and are trying to reach out to you from our remote places.
We live in Arunachal Pradesh, the north-eastern part of India. Our government promised us more than twenty years ago that we would soon get electricity. After all more than half of the hydro electricity potential of India is in our state. After more than two decades of promises and efforts the projects are yet to come up. We are told by some educated outsiders who are opposing them that such projects are not good for the local environment and mountain ecology. We believe them and continue to live without electricity as our forefathers did more than a century ago.
We are forest dwellers of Jharkhand. Our children spend time with cattle. They wander with them throughout the day in search of food. There is no school or road in our village. They say there are coal deposits here. Many years ago we heard that soon there will be coal mining and we would get jobs. That coal will be used for generating electricity. We thought that finally we would see the light that the village had never seen. Those plans have now been stopped because coal mining will affect forests. We have also been told that burning this coal will harm you. Now we don't know what our government will do. Please let us know if our leaders have promised you that they will convince us to live without electricity. We are sure that you will not accept such an arrangement.
We are tribals from Rajasthan, the fascinating land of forts and deserts. Many of you might have visited our state. We are told that every second foreign tourist to India comes to our state to see its history and heritage. We live near the sand dunes where you spend your holidays. After taking you for camel rides and giving you a glimpse of our culture, music and dance we go back to our villages. Our women walk miles to fetch drinking water. The nearest hospital is half a day's walk. Our life stands still after sunset. We have waited three decades for a nuclear plant that was to be set up near our village. We have no other hydro or thermal source, so nuclear was our only hope. Now that project is scrapped. Our government has not been able to tie up technology or fuel for the nuclear plant. Also some tourists told us that this was unsafe. So now we are safe but sad because we don't know whether we will ever get electricity.
The other day one foreign tourist told us that wind and sun can produce electricity. Our government now has a plan to instal solar power plant in our village and a wind power unit in the neighboring village. We are happy. But they say that this electricity is costly. They also said that they can give us electricity only for a few hours when the sun is shining or the wind is blowing. We are excited but anxious because we don't know if we will be able to pay for that electricity. There is now more uncertainty in our lives. We were used to managing our lives somehow for centuries.
Is it true that you don't have any of these problems? Is it true that in order to provide you electricity your government used all that it could, coal, gas, hydro, nuclear? Do you have any problem with us getting the same convenience? How can it be? We live on the same planet. We don't want to light up our homes in a way that will harm you. With all the technology and capital at your command why don't you tell us new and affordable ways by which we could get electricity without using coal, nuclear or hydro? We will certainly plead with our government to do things differently after getting some practical advice from you.
Our government tells us that in your country one person consumes more than ten times the electricity than one person does in our country. We don't understand these comparisons because we consume no electricity at all. We are also told that if all of us lived in your country your consumption of electricity would still be more than what an ordinary person requires. Is this true?
We hope you understand that we are ordinary persons, with ordinary needs. We are sure that you can understand us even if your governments don't. We have a right to grow, we have a right to fulfill our needs. We do not want to damage your future even though your ancestors might have inadvertently damaged yours and ours. We know that our futures are linked and that you as human beings do not want us continue to live with our wants and indigence.
We hope to hear from you as our government has promised to provide us electricity in the next few years. You can write to us at the following Signed,
Common man from India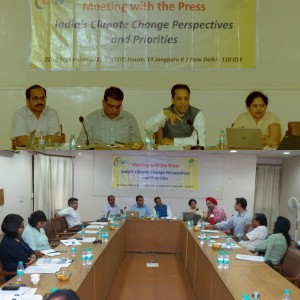 Vasudha Foundation in collaboration with Council on Energy, Environment and Water (CEEW) on 22nd September 2015 convened a meeting with the press in New Delhi to decode the current process under the UNFCCC for countries to propose their Intended Nationally Determined Contributions (INDC). 
Explaining the key objectives, Dr. Arunabha Ghosh (CEO, Council on Energy, Environment and Water) gave a brief on 'New Options to Shape India's Narrative in Climate Negotiations: Technology Partnerships, Differentiation, and Risk Assessments'. Following Dr. Ghosh's insights on India's role in the global climate change discourse, Mr. Srinivas Krishnaswamy (CEO, Vasudha Foundation) talked on the issue of energy access by giving a very interesting presentation on 'Delivering a Decent Standard of Living without costing Earth'. The presentation also gave a comprehensive understanding on co-relation between energy access and sustainable development goals. The press meet also discussed the impacts of climate change on forests and it was explained in detail by Mrs. Sudha Padmanabha (Senior CDM Specialist, Fair Climate Network). She gave an in-depth presentation on 'Impacts of Climate Change on Forest Ecosystems' where she enlisted some win-win adaptation strategies for forest ecosystems in India. Lastly, Mr. Emani Kumar (ICLEI Deputy Secretary General and Regional Director-ICLEI South Asia) gave his views and showed how ICLEI has been helping Indian cities to adapt sustainable development practices in their city plans. He presented on the topic 'Solutions and Potential for Climate Action in Indian Cities'.
CEEW – New Options to Shape India's Narrative in Climate Negotiations – Dr. Arnab Ghosh
VF – Delivering a decent standard of living without costing the earth – Mr. Srinivas Krishnaswamy
FCN – Impacts of climate change on Ecosystems – Mrs. Sudha Padmanabha
ICLEI – Climate Action and potential in Indian Cities – Mr. Emani Kumar