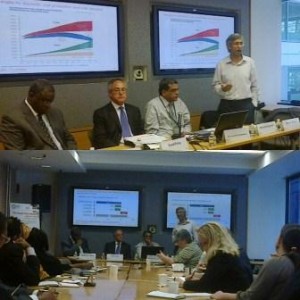 Vasudha Foundation organized a panel discussion on the theme of "Basket of Options for Scaling up Renewable Energy in Fast Developing Economies such as India", at the Civil Society Policy Forum at the side lines of the World Bank Spring Meetings, on Friday, 17thApril 2015.
The panel discussion had a interesting line up of discussants. Mr. Srinivas Krishnaswamy, Chief Executive Officer, Vasudha Foundation, made a brief presentation on "Development Deficit" in a number of developing economies, by giving example of the ground realities in India. He highlighted the opportunities for countries to opt for low carbon pathways and making the case that low carbon pathways could potentially ensure inclusive growth and poverty alleviation as against the traditional and hitherto followed development policy and pathways.
Mr. Manish Bapna, Executive Vice President and Managing Director, World Resources Institute. Manish's presentation titled "Better Growth, Better Climate: The New Climate Economy Report", was primarily the highlights of the New Climate Economy Report released earlier this year. Manish's presentation helped to set the stage for discussions on solutions for scaling up and adopting low carbon development globally.
Dr. Lawrence Jones, Vice President, Utility Innovations and Infrastructure Resilience, Alstom Grid INC, who spoke on smart grid, with his presentation titled, "Zero to One: Building a Smarter, Flexible and Resource Agnostic Grid".
Todd Foley, Chief Strategy Officer, American Council On Renewable Energy, spoke on "Investment Opportunities for Renewable Energy and on Accessing Finances for scaling up Renewable Energy Solutions. His presentation, primarily highlighted the fact that investment opportunities was very high with adequate financing through existing and innovating modes of financing possible for scaling up renewable energy, as long as there is a conducive policy framework to make this happen.
Gevorg Sargsyan, Global Lead, Clean Energy, World Bank, wrapped up the discussion by talking of the Bank's role in scaling up solutions through its various programs and policies. He also made a brief presentation on anew tool that the Bank has developed, which is called the "Readiness to Investment in Sustainable Energy".
View Presentation by Dr. Lawrence Jones on 'Zero – One : Building a Smarter, Flexible and Resource Agnostic Grid'
View Presentation by Mr. Manish Bapna on 'Better Growth, Better Climate: The New Climate Economy Report'
View Presentation by Mr. Srinivas Krishnaswamy on 'Identifying Opportunities for India to opt for Sustainable and Low Carbon Development Options'